If you're into jewellery, chances are you will have heard about stacking – and if you haven't, where have you been? Like really – where have you been?! We, at Metal Morphosis, have been created curated stacking looks long before it became mainstream. Didn't you know, we start trends, we don't jump on them. That's why we've created your go-to guide for stacking. Whether you prefer silver or gold, we've got our top picks below! Get stacking…
CHECK OUT SOME OF OUR STACKING MUST-HAVES:

Whether you prefer gold or silver, we have just the pieces to help you create your unique look.

BUILD OUT YOUR GOLD STACKING LOOK – PERFECT FOR SUMMER
Start summer TODAY with the pyramid clicker in gold! There is something about a gold hoop that screams summer, and these hoops are the perfect balance between being simple and dainty, yet with an MM twist! These hoops are our take on the classic everyday gold hoop – just a bit spicier.
View Details
Spice up your stacking look with a stud. These clover beauties add some variation to your stacking look. Either place them between the 2 hoops or add them to your highest lobe piercing.
The beauty of stacking is that everyone has different tastes and styles, so wear these 3 pieces the way you want to – and we can guarantee you'll rock them however you wear them!
View Details
These studs are versatile. Wear them in your lobe piercings or in the helix. For this stacking look (see snap below), we thought adding the stud in the higher lobe piercing balanced out the look, whilst adding that bit of bling.
View Details
ADD THIS TO COMPLETE YOUR LOOK!
Is it even stacking without a helix hoop?! The beauty of the jewelled clicker is that it works well in multiple piercings, from helix to daith, lobe, rook, or tragus!We thought the clicker in the helix really spiced up this look!
View Details
This gold ear stack has everything, glitz, and grit. The graduation in size from the pyramid clicker and the clover charm, which are slightly more substantial pieces, to the gold stud and the jewelled clicker, which are daintier. This ear stack has it all going on!

IS SILVER MORE YOUR THING? WE'VE GOT SOMETHING FOR EVERY TASTE

This selection goes out to all the silver lovers…
There's something cool about the simplicity of these hoops. They are versatile, either use them as the base to your stacking look, or in your higher lobe piercings.
View Details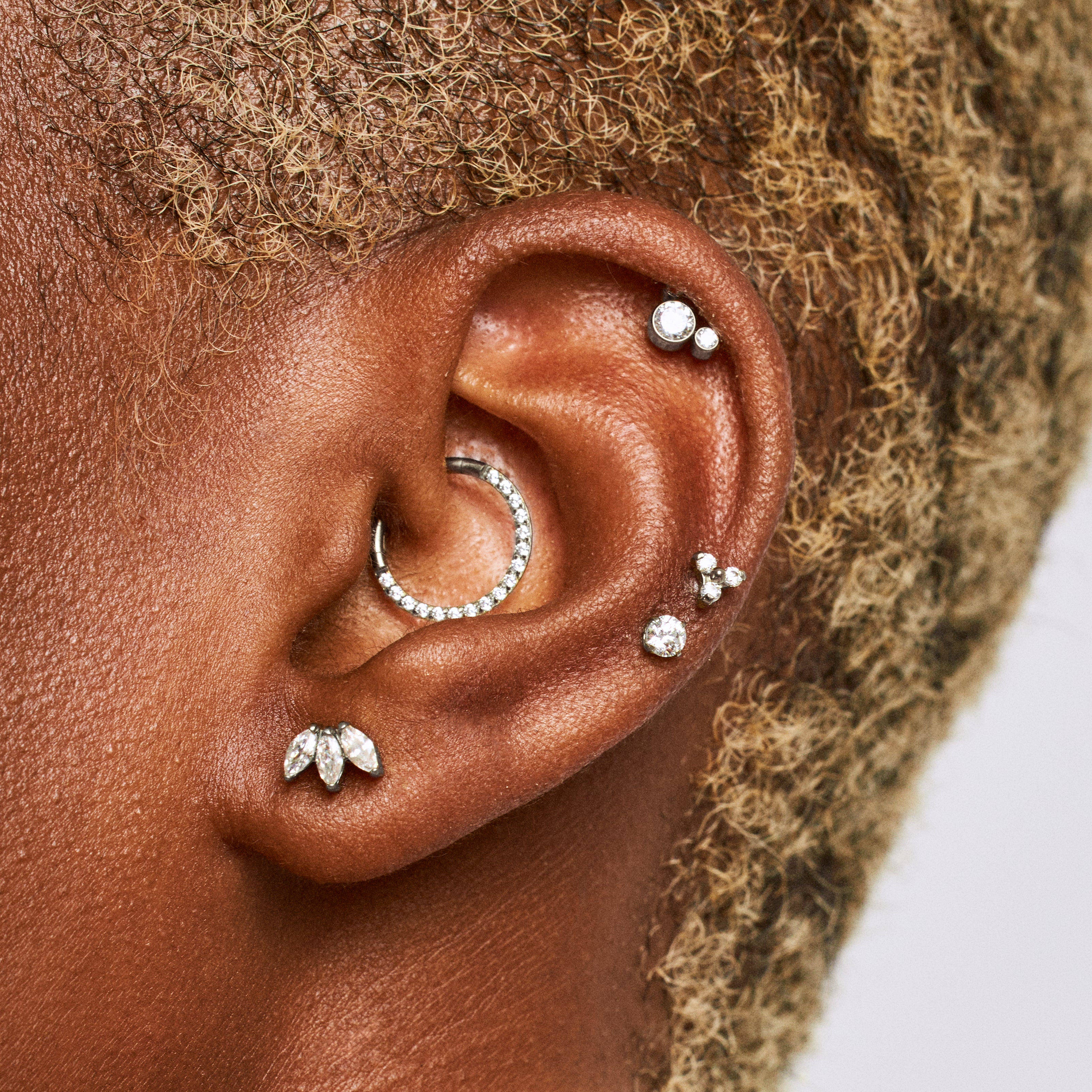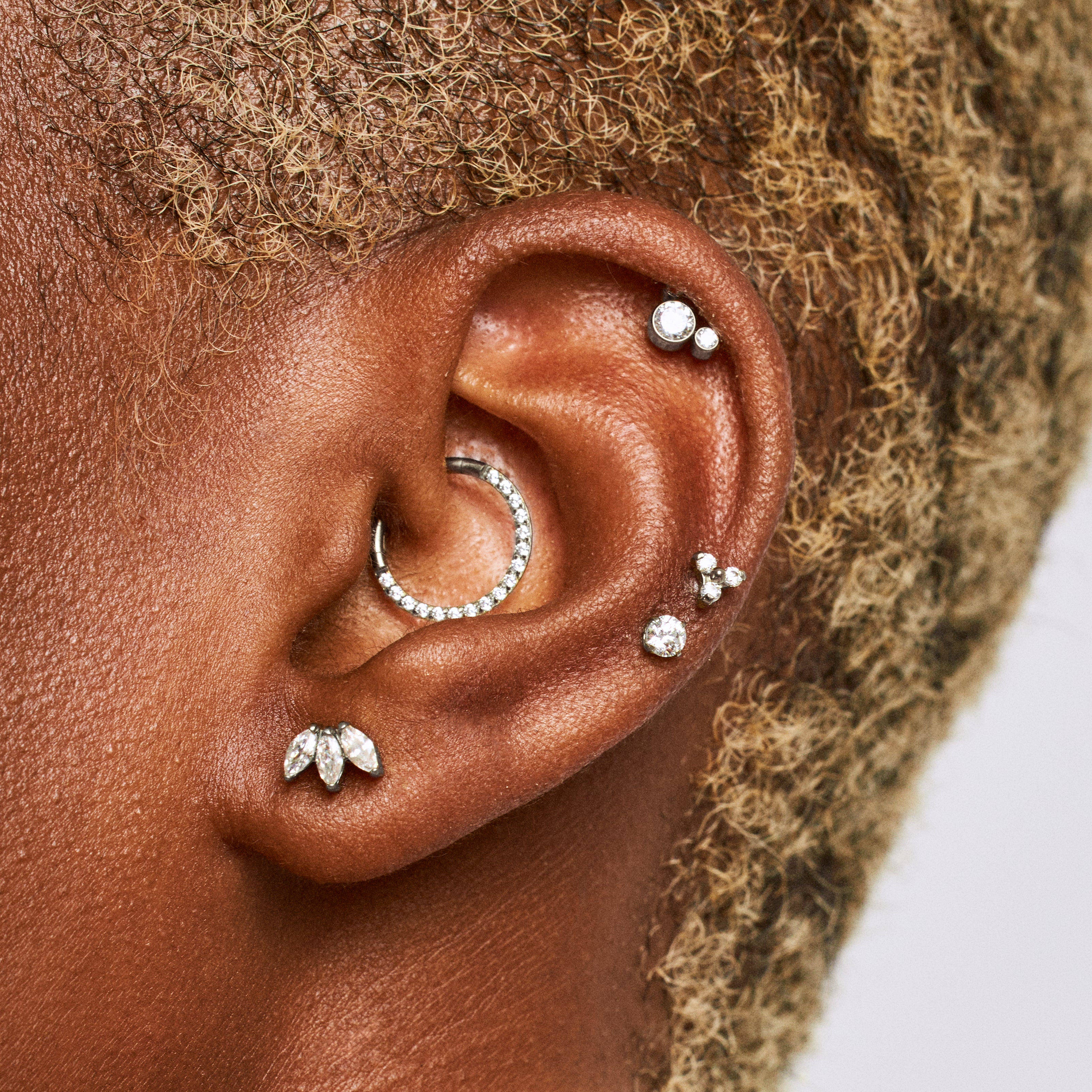 CRYSTAL TRINITY IN SILVER
The trio stud is one of our best sellers. They inject some bling into any stacking look – plus in classic Metal Morphosis style, these combine luxury, sexiness, and high-quality materials. You just can't go wrong with the trio.
View Details
Putting in these evil eye studs instantly makes you feel like you're in Greece. And with the current restrictions – they might be as close to Greece as we'll get this summer! These studs are the perfect blingy addition to your stacking look. Wear them in your first, second, or third lobe hole.
View Details
ADD THIS TO COMPLETE YOUR LOOK!
The beauty of stacking is in the variety. Build your curated stacking look with hoops, studs, chains, or charms – the decision is up to you! (Note RS: Add in inbound links for different categories). These lantern charms are beaut! They can be purchased with or without the ring and can be worn in lobe piercings or cartilage.
View Details
According to one of our piercers, what's hot this season is starting the stacking look with a simple hoop, and then adding some more sparkly pieces in the higher lobe piercings. We think these 4 pieces work well together. You've got the simple silver hoop at the bottom, the trio, and the evil eye studs in the higher lobe piercings. Then we've also added the lantern charm in the helix. Everything you need for your perfect silver stacking look!

CREATE YOUR OWN EAR STACK

Want to create your own unique look? At Metal Morphosis, we are all about empowering our customers be 100% themselves. This is reflected in our collection; our customers can mix and match with our pieces to design different individual looks.

GET PIERCED

Wanna stack but can't? We've got you covered rebels! Book in for a piercing slot with one of our experienced piercers today. Our team are there to provide advice as to what piercings will suit you and advise you on how to look after your new piercing.
Remember to tag us in your stacking looks on social - simply use the hashtags #stackmm